About the album 
 Letters from Gilead
Bio
Since 2012, the acoustic indie-folk duo known as Haze & Dacey has been entertaining audiences at various breweries, wineries, and concert series throughout Virginia and beyond.  Original songs written by Haze are interspersed amongst covers both familiar and obscure.  The duo skips nimbly from folk-pop to alt-country to roots-rock, creating a homegrown organic sound with upright bass, acoustic guitar, piano, shaker, tambourine, and mouth-horn.
The Haze & Dacey Collective is what happens when the duo brings additional musicians into the mix to fill out the sound and spice things up. Their debut album, Letters from Gilead, was released on November 12, 2021.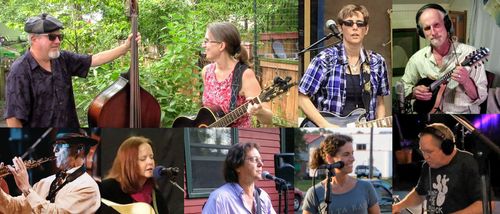 Album details
Album Details
"The Muse is something strange," says songwriter Kirsten "Haze" Hazler, reflecting on the creative process. "I feel more like a medium than a writer… Sometimes a snippet of melody or a wisp of a lyric lingers in my head for months or years before it is ready to become a full song. Sometimes it all comes pouring out of nowhere, and is finished within a half hour." Her most recent body of work was inspired by bingeing on the first two seasons of The Handmaid's Tale, which in turn was based on the novel of the same name, written by Margaret Atwood back in 1985. The Muse was quite insistent that Haze write an entire album, and so Letters from Gilead was born. 
The acoustic indie-folk duo, Haze & Dacey, were performing many of the songs from the album at their live shows as early as 2019, and they began hatching plans to start recording in 2020. And then the pandemic hit, and everything, including recording, was put on hold. A year rolled around, a year in which Atwood's dystopian novel was uncannily close to real life, right down to the U.S. government almost being overthrown by a far-right radical mob. The collection of songs seemed more relevant than ever, and Haze was tired of waiting for the right conditions to record. She recruited a band, which would later come to be known as The Haze & Dacey Collective. The band members practiced individually to the scratch tracks Haze recorded in her living room. 
In February of 2021, the band masked up and headed into the warehouse that served as the temporary home of the Sound of Music Studio in Richmond, Virginia. In the capable hands of recording and mixing engineer John Morand, they brought Haze's musical vision to life. The process took several months, with recording and mixing sessions interrupted by everyone's day jobs and "other annoying adult obligations". 
On the album, Haze handles lead and some backing vocals, acoustic guitar, and piano, while Dacey holds down the low end with both upright and electric bass as well as backing vocals. The Collective fleshes out the sound with drums (Blee Child), electric guitar (Leslie Williams), mandolin (Doug Austin), saxophone (Allen Burris), and additional vocals (Jolie Harrison, Megan Rollins, and Doug Hewitt). 
The album as a whole defies categorization into a single genre. Straightforward roots-rock (Letters from Gilead, Closet Scrawl, Under His Eye), alt-country/indie-folk (My Name is June, Blue, Sliver of Joy), speakeasy swing (Jezebel's), a lullaby (Hannah), and a piano ballad that shifts into something like gospel (Feels So Good to Fly) all coexist on an album that concludes with a piece that would be right at home on a musical theater stage (Oh Canada). The common thread is the stories of people hanging on to love, hope, courage, and humanity, while trying to survive the dystopian nightmare that is Gilead.
Album
Album Tracks
The SoundCloud embed below includes all songs on the album, available for streaming and direct download (WAV format).
Lyrics for all tracks can be found here.
Radio DJ Notes:
The album was released on November 12, 2021.
The single Letters from Gilead was released on September 17.
The single Jezebel's was released on October 15. It contains one instance of language that may be objectionable to some audiences (at 2:52).
The track Closet Scrawl contains multiple instances of language that may be objectionable to some audiences.
Reviews for Jezebel's  (single)
Reviews
"A filigree track that is so detailed and honed to shine that it makes you fall in love from the very first seconds. Deep female vocals... beautiful piano notes." (Nagamag)
"... reminiscent of 1920's style swing and jazz one would hear in a speakeasy... guided by Kirsten's Joan Baez-esque voice and powerful lyrics" (Modern Mystery)