I've posted about every song in the upcoming "Letters from Gilead" album, except for this one. I'm not sure why it took me so long. I wrote this song and uploaded the rough take to SoundCloud over a year ago. But it seems apropos to post it now, since a week ago yesterday I was over at John's house watching the presidential election results coming in, filled with existential dread that our nation might not actually rid itself of the worst president I've seen in my lifetime. The thought of emigrating to Canada certainly crossed my mind. As the week progressed and the results were still too close to call, memes started floating around social media about "Emotional Support Canadians".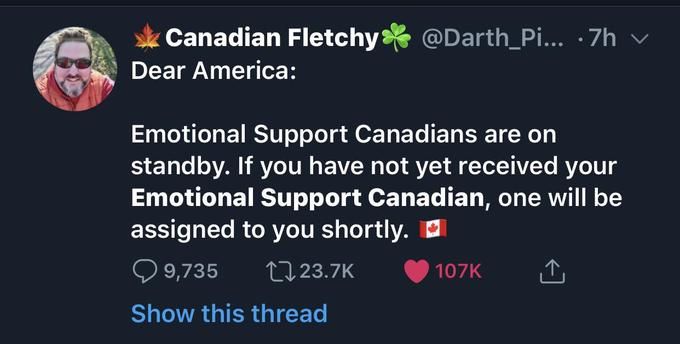 On Saturday, the election was finally called for Biden. This was cause for elation and relief among those of us who value honesty, integrity, intelligence, competence, and common decency in a leader. In my neighborhood, it sounded like this when we heard the news:
But honestly, are we really out of the woods yet? Trump is refusing to concede, and Secretary of State Pompeo has promised a "smooth transition to a second Trump administration". There are already whispers about the possibility of Trump running again in 2024. The fact is, over 72 MILLION Americans voted to reelect Trump. And a large portion of them are probably convinced that the election was "stolen" from him. Not a rosy state of affairs.
Anyway, back to the song. "Oh Canada" was inspired by a scene in Episode 11, Season 2 of "The Handmaid's Tale". June has a chance to escape, and as she sits in the getaway car, still in the garage, she tunes in to a Canadian radio station that offers hope for a new life across the border.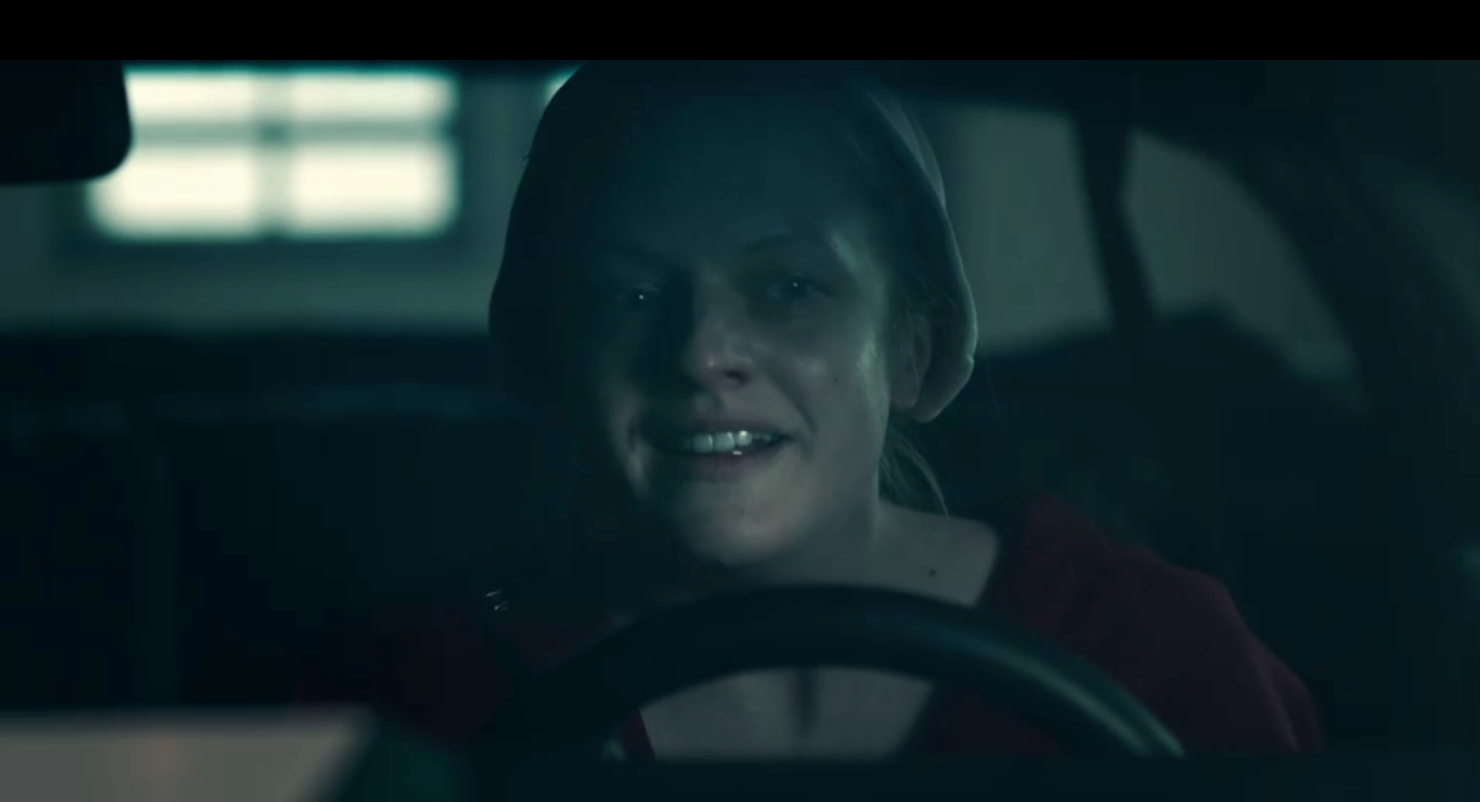 Outside the garage, the world is covered in snow.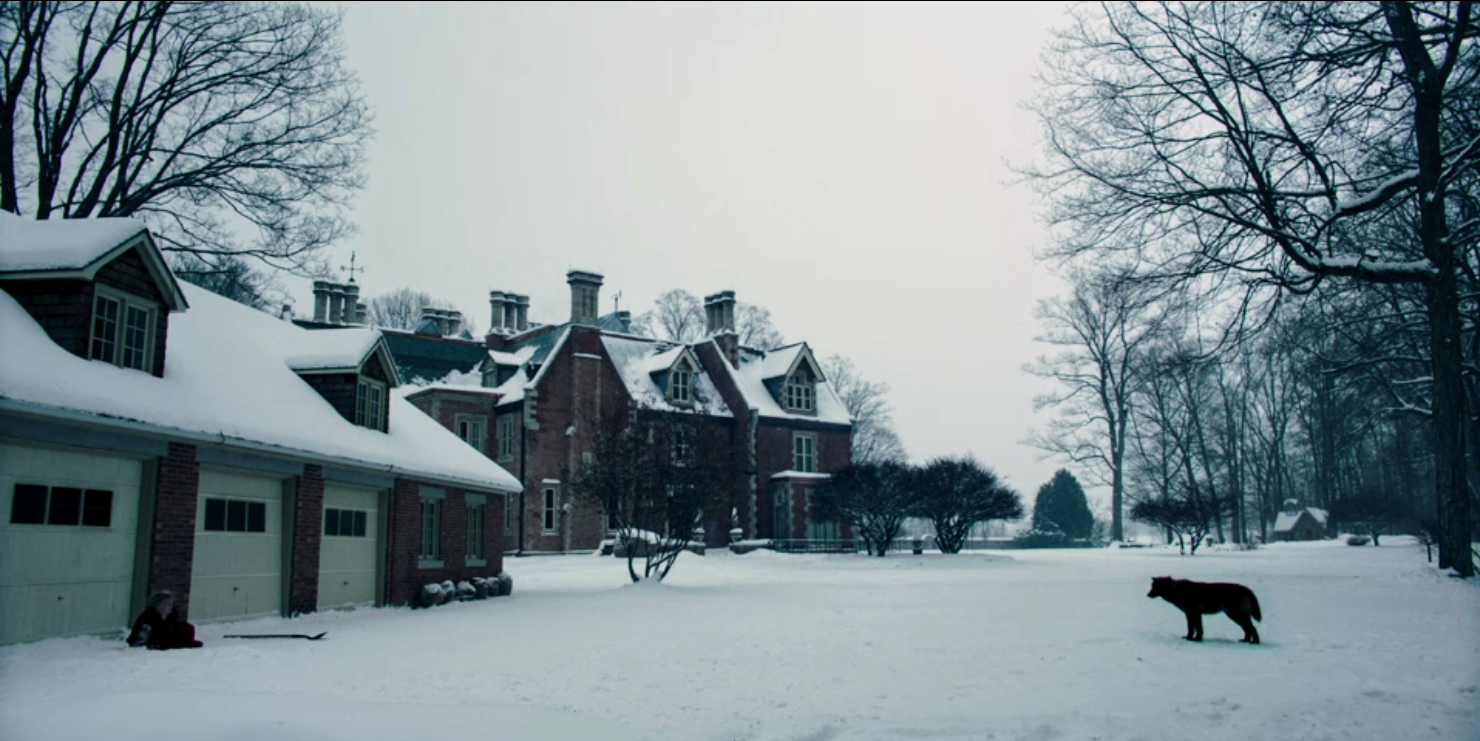 I started writing the song from June's perspective, based on this scene, but it was also influenced by other episodes that follow Moira's and Luke's lives after their escapes to Canada. I wrote them into the song, too. Each character has their own independent lines. The chordal structure of the song is exceptionally simple, consisting only of variations of the chords C and F. This gives the voices the freedom to weave in and out of each other, sort of like a round, except the parts are all different. Luke's part, which John will be singing, is actually too low for me; it goes down to a low C, which I can't normally hit. The only way I was able to record it for this rough take was to record immediately after I woke up, using my morning croak to full advantage.
After I finished putting the various parts of the song together, I realized that it reminded me of a song by The Decemberists, called "Sons and Daughters." And the lyrics fit the theme, too. So then I tried singing that song against what I'd already recorded, and it worked. I imagined that their song could have been playing on the radio as June listened, so I added two verses of it into mine. I'm not sure what the rules are about quoting a song within a song. I'm hoping this counts as "fair use", and that Colin Meloy doesn't mind.
Lyrics:
RADIO DJ (spoken):
Broadcasting from somewhere in the Great White North... Now a tune to remind everyone who's listening, American patriot or Gilead traitor, we are still here. Stars and Stripes forever, baby!
JUNE:
Oh Canada, I heard your voice on the radio
Saying you're still there with open arms
Oh Canada, I'm on my way
Over the border and through the woods
Your voice gave me solace and a little hope
Oh Canada, I'm on my way
Oh Canada, your voice on the car radio
The world outside was covered in snow
I had a getaway car but I couldn't go
Oh Canada, I could not go
Oh Canada, your voice stuck in my head
I'll either make it there or I'll end up dead
I had to postpone freedom for another day
But oh Canada, I'm on my way
MOIRA:
Oh Canada, you can't imagine what I've seen
You can't imagine what they've done to me
Oh Canada, please take me in
Oh Canada, are you the land of milk and honey?
Where I can read a book and spend my own money?
Oh Canada, you took me in
Oh Canada, a bowl of cereal can make me cry
Blessed be the Froot Loops, under his eye
No use asking the reasons why
I'm still alive and she had to die
I made it to the land of Canaan
Oh Canada, can I begin again?
LUKE:
Oh Canada, a man can break or a man can bend
Oh Canada, you took me in
Oh Canada, a man can break or a man can bend 
Oh Canada, can you help me mend?
Oh Canada, a man can break or a man can bend  
Oh Canada, I'm a broken man
Oh Canada, you've done so much but it's not enough
Diplomacy can only go so far
It's time to raise an army, start a righteous war
For my wife and child and so many more
So many more, so many more
They're trapped on the other side
Oh Canada, it's a genocide
Oh Canada, it's time to rise
SONG ON RADIO (lyrics/melody from "Sons and Daughters" by Colin Meloy/The Decemberists): 
When we arrive, sons and daughters 
We'll make our homes on the water 
We'll build our walls of aluminum 
We'll fill our mouths with cinnamon now 
Take up your arms, sons and daughters 
We will arise from the bunkers 
By land by sea by dirigible 
We'll leave our tracks untraceable now