I thought I might post my songs in the "Letters from Gilead" series in the order they were written, but I'm scrapping that idea right now. Tonight, I feel like sharing my newest song, "Feels So Good to Fly". I sent the original lyrics to Dacey on January 4, but he didn't actually get to hear the song until today, when I played it for him in my living room this afternoon. And then I recorded it this evening, so he'd have something to work with to learn his parts. At this point, on this song his parts are up to him; I don't really have any preconceived notion of what he should play or sing. (This is definitely not always the case! Sometimes I have very specific parts in mind.)
This is one of those songs where I had only a simple line and one melodic phrase in my head, for quite awhile. It wasn't rattling around, begging to be written; it was just sort of there, waiting patiently for its time. But on Saturday morning, Jan. 4, the Muse became insistent about this song. I had a lot of household chores I had planned to get done, and I almost blew her off, but I'm so glad I didn't. I sat down at the piano in my pajamas, and within a few minutes, had some chords jotted down on the closest paper I could find, which happened to be the envelope of a Christmas card I had received.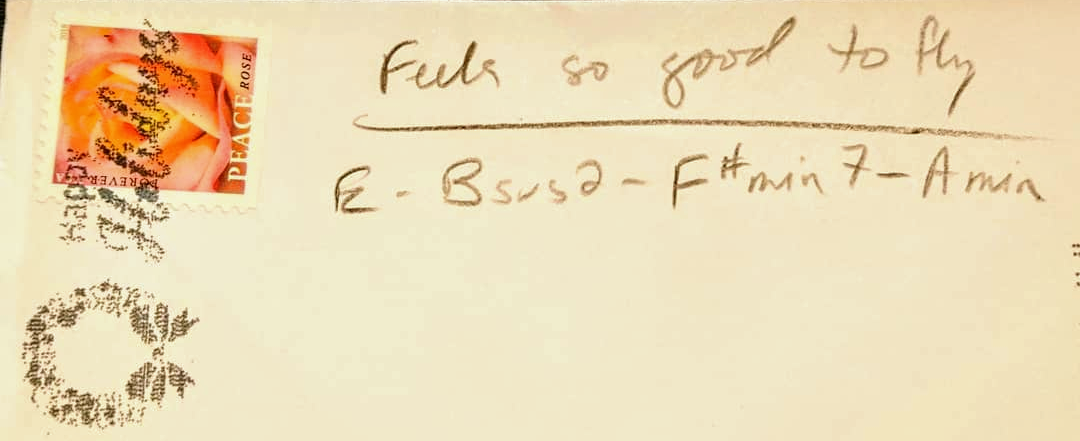 I worked on the song for a few hours and then it was pretty much done. There have been only a couple of little tweaks since then; it's mostly been a matter of practicing it enough to make it sound like I hear it in my head.
This song is sung from Janine's perspective. It is inspired by a heart-breaking scene toward the end of episode 9 in season 1 of "The Handmaid's Tale". The images below are screenshots from that scene.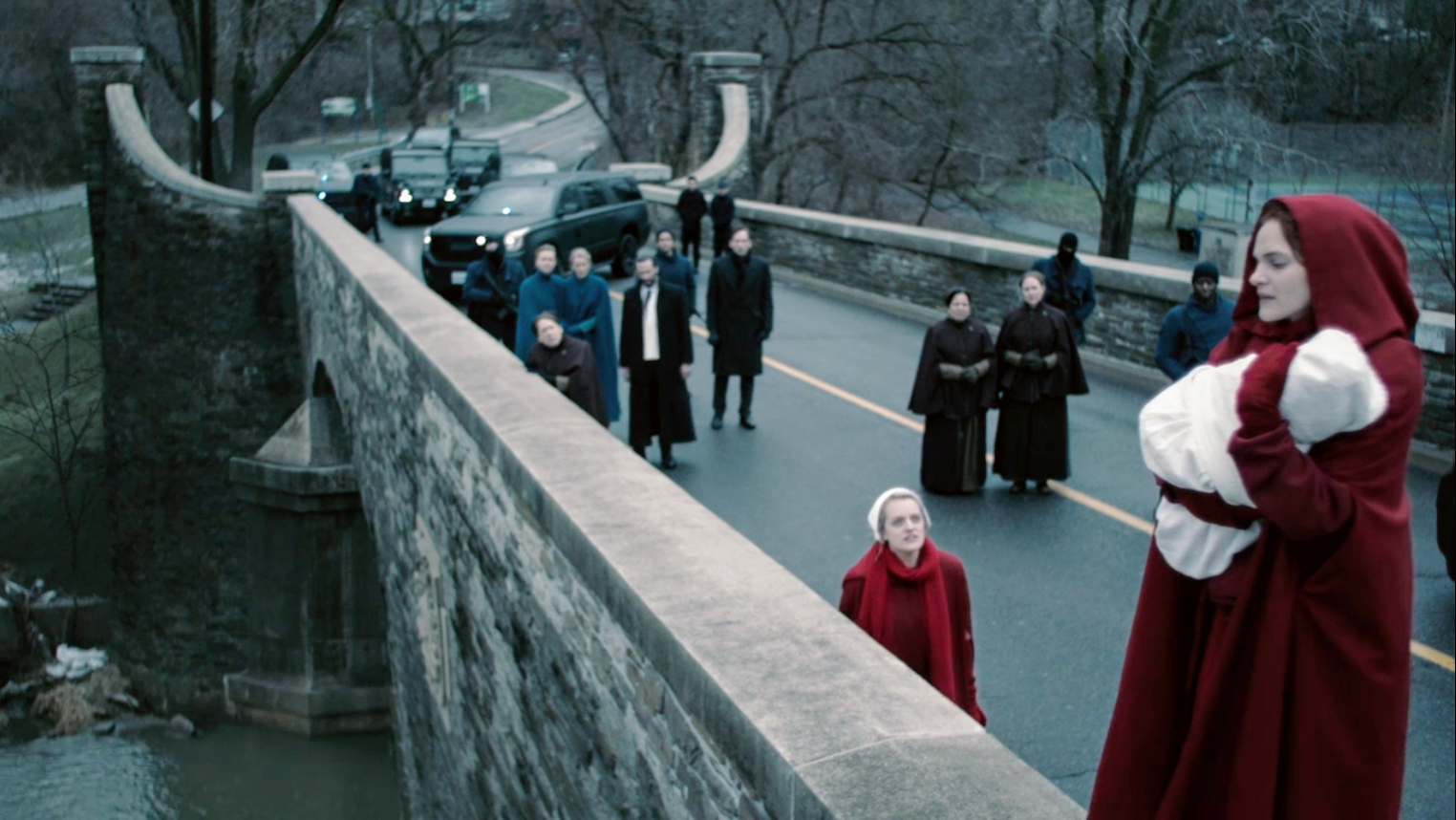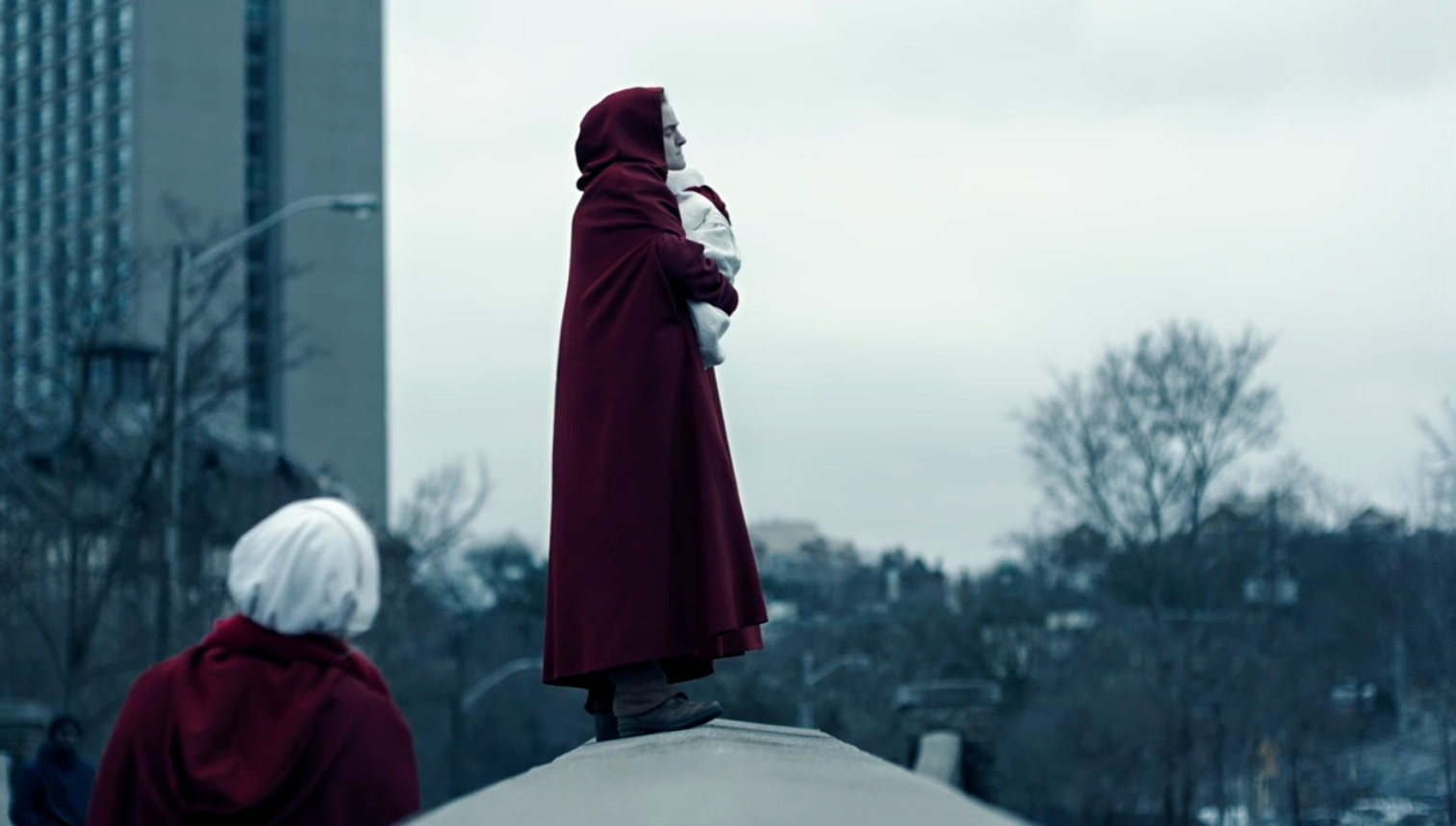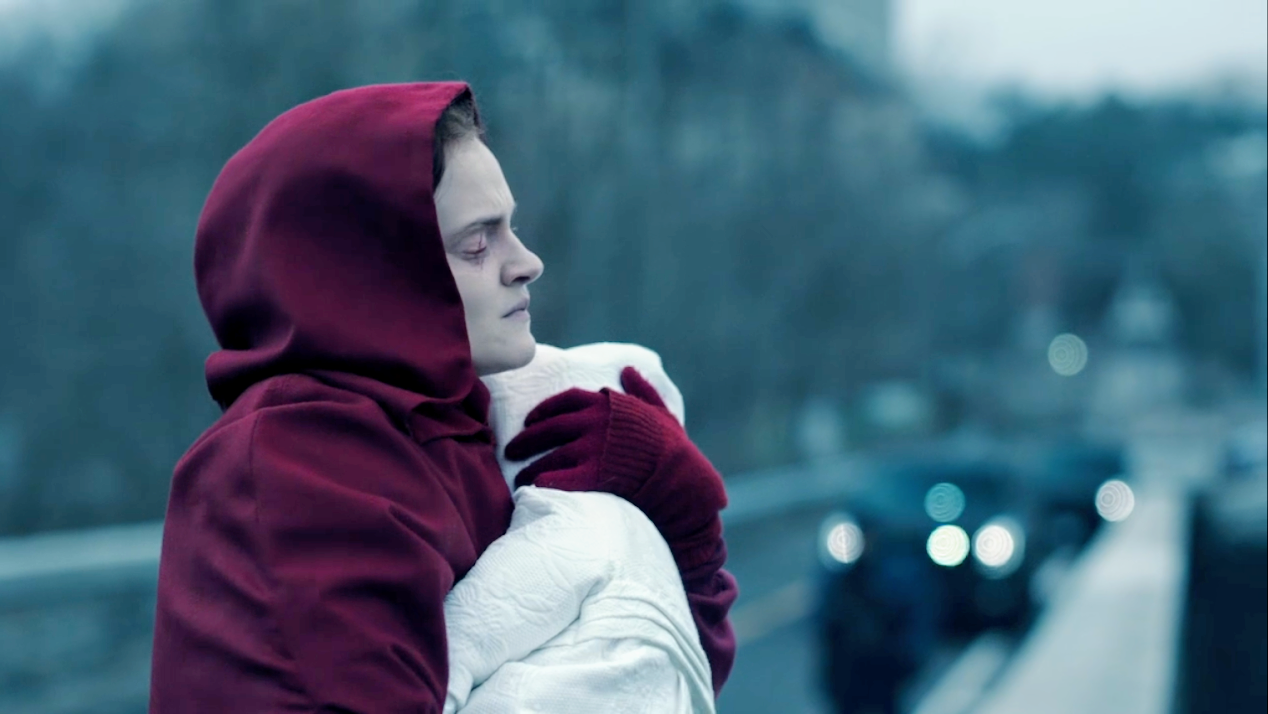 And here's a rough cut of the song:
Lyrics:
It would feel so good to fly... 
I stand on the ledge looking over the edge 
At the rocks and the waves below 
That would destroy my body but liberate my soul 
The baby in my arms sleeps quietly, breathes peacefully 
The baby in my arms, she could fly with me 
She would never have to know.
I could set her free...
No more twisted world, no more twisted desires 
No more servitude, no more hypocrites and liars 
There's got to be something better, beyond this great big sky 
We can get there if I'm brave, if I take this leap and fly 
If I fly, if I fly 
And the baby in my arms, she sleeps quietly, breathes peacefully 
The baby in my arms, she could fly with me 
She would never have to know.
It would feel so good to fly 
I stand on the ledge, toes over the edge [x 3]
And now I look back to say goodbye 
I hear the panicked voices, reconsider my choices 
'Cause the baby in my arms sleeps quietly, breathes peacefully 
The baby in my arms, maybe she could have a better life than mine... 
So I step off the ledge, away from the edge 
And June takes my baby from my arms 
And now my arms are spread like wings 
The wind on my face swirls and sings 
The rocks and the waves below 
Are beckoning and I'm ready to go 
Ready to go
It would feel so good to fly  
I stand on the ledge, toes over the edge [x 3]
The air is sky, the sky is blue 
I'm over the edge and now I know it's true 
It feels so good to fly 
It feels so good to fly 
It feels so good, it feels so good, it feels so good to fly
It feels so good to fly